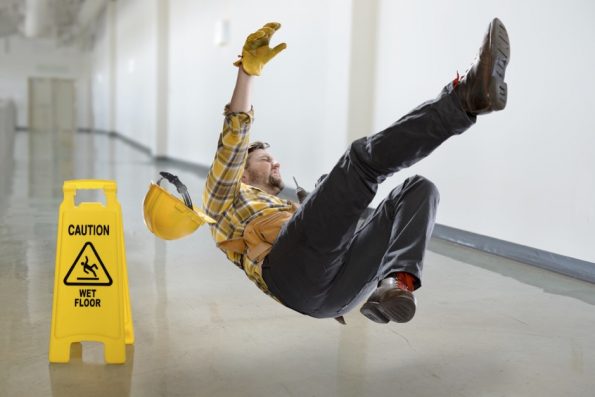 Workplace Slip and Falls Accident Mistakes to Avoid
Emergency rooms record hundreds of thousands of slip and fall accidents every year. In fact, they are among the three leading causes of fatalities in the US.
The most common cause of workers' compensation claim is the slip and fall accident.
Badly lit hallways, icy sidewalks, potholes, poorly constructed stairways, and wet floors are among the causes of these accidents. Negligence by businesses, individuals and private entities can lead to slips and falls, necessitating personal injury claims. The claim aims to recover medical bills and lost wages.
Knowing what to do after a slip and fall accident is just one step; knowing what not to do is also a vital component of filing a claim successfully.
1. Failure to Notify Your Supervisor about the Accident
Once the accident happens, you have to notify the person in charge of a fellow employee as soon as possible. It is always better to do this in writing rather than by word of mouth.
Your supervisor will file an incident report that you can use as evidence when filing a claim.
2. Failure to Gather and Preserve Evidence
Evidence is crucial to the success of the slip and fall accident claim. Without enough evidence, you won't be in a position to prove that you even had a slip and fall in the first place. Keep records that include the incident report, emails, photos, videos, texts and any documentation that you feel is relevant to the claim.
Make sure you store the evidence safely for use later.
3. Not Getting Prompt Treatment
Don't wait for several days to get medical attention after the accident. Ensure you see a qualified medical doctor and get proper treatment to avoid any complications.
Visiting a doctor confirms to the insurer that you were indeed injured seriously. Additionally, the visit to the doctor makes sure you document your injuries. The early treatment guarantees you the best chance of getting healed fully.
Make sure you attend all medical appointments to receive proper treatment and avoid raising suspicions regarding your health.
4. Hiring A Slip and Fall Accident Lawyer Only When Things Get Tough
You need to work with a lawyer right from the beginning so that you explore all the options. The lawyer comes with legal expertise to make sure all aspects of the claim are covered professionally, including submission of legal documents, handling interviews and any legal requirements related to negotiations.
5. Filing the Claim Late
The state gives you a time allowance during which you need to file the compensation claim. If you file the claim after the time has expired, you make it impossible to get compensated.
6. Giving Unnecessary Interviews after the Accident
Avoid talking to the insurance company without consulting the lawyer. Anything you say can be used against you by the adjuster. Slips and falls are complicated and can result in dismissal by the court if not appropriately handled. To ensure you receive maximum compensation, always consult with the slip and fall accident lawyer before you give any interviews.
7. Accepting an Initial Offer without consulting Your Lawyer
You shouldn't accept the first offer from the insurance company. This is normally a fraction of what you are supposed to receive. The company is trying to see if you are willing to settle for less.
You are also under no obligation to sign any contract or document from the adjuster without consulting the lawyer.
8. Leaving Everything to the Lawyer
Once you file a claim, it doesn't mean that you should leave everything to the lawyer to handle on your behalf. You need to actively participate in the process by giving information and looking for more evidence. Make sure you pick up the lawyer's calls and submit all information as requested.
Don't Bear the Burden of Someone Else's Negligence
If you sustain work injuries due to a slip and fall accident, you have the right to be compensated fully. Work with a skilled work injury lawyer to file a claim.